BREAKING: We now have official confirmation that the RTX 4090 will launch on October 12! It starts at $1,599, will pack 24GB of GDDR6X memory, and will offer performance between two and four times as fast as the RTX 3090 Ti. We also saw details on the RTX 4080.
We're live watching the Nvidia GeForce Beyond broadcast at GTC 2022, and will be updating this article with all the news about the RTX 4090 as we go. Nvidia has just shown off its incredibly detailed RacerX physics and rendering simulation, which is apparently running on a single next-gen 'Ada Lovelace' Nvidia GPU – presumably the almighty RTX 4090.
The new cards will have 76 billion transistors and feature a new technology called Shader Execution Reordering (SER), which promises to boost ray-tracing performance by up to x3. They will also feature a new Tensor Core type with greater tensor processing. These GPUs promise at least a 25% increase in gaming performance thanks to SER.
RTX 4090: Other new details
Nvidia Real-Time Denoisers are a new technique that enables fewer rays needed for ray-traced lighting and shadows, which improves performance and stability. DLSS will naturally return for the new generation, allowing for better framerates at higher resolutions via AI processing – theoretically up to 16K.
Ada will feature DLSS 3, which can generate entire frames at once rather than on a pixel-by-pixel prediction basis. This allows for up to a 4x increase in gaming performance compared to brute-force rendering without DLSS – and this technology will feature on the RTX 4090. It also allows the RTX GPU to render games faster than the CPU is capable of keeping up in CPU-limited games, but inserting predicted frames without the need for CPU input.
There's also a new technology called RTX Remix, which uses AI to enhance assets in old games – Morrowind was given as an example – via an 'RTX Mod Pack'. It's currently unclear whether this will be available for use on previous-gen RTX GPUs.
Original story follows:
---
The Nvidia RTX 4090 could launch later today, with rumors suggesting that one of the most anticipated graphics card launches ever is a only a few hours away.
Nvidia is holding its annual GTC event, and it's been heavily tipped that the RTX 4090 will make an appearance. To make sure you don't miss out, check out our Nvidia RTX 4090 live blog. We also show you how to watch the Nvidia GeForce RTX 4090 announcement at GTC 2022.
Besides the ridiculous power demands expected of the next-gen BFGPU, there is also what we anticipate will be its imminent announcement on September 20, 2022. And while the Nvidia RTX 3090 might be the best graphics card ever made (for most consumers, anyway), the Nvidia RTX 4090 is rumored to be nearly twice as powerful, if not moreso.
It remains to be seen if any of these rumors will pan out, but needless to say we expect the Nvidia RTX 4090 to be the best Nvidia GeForce graphics card released this year, thanks to the Nvidia Lovelace RTX 40 series architecture, though we also expect to see the Nvidia GeForce RTX 4080 announced as well, and possibly the Nvidia RTX 4070.
How do we expect the Nvidia RTX 4090 to measure up against it's predecessor and its Lovelace siblings? While there is a lot we don't know yet, here is everything we've heard so far.
Cut to the chase
What is it? Nvidia's next flagship graphics card
When will it be available? October 12
What will it cost? $1,599 for the base model
Nvidia RTX 4090 Release Date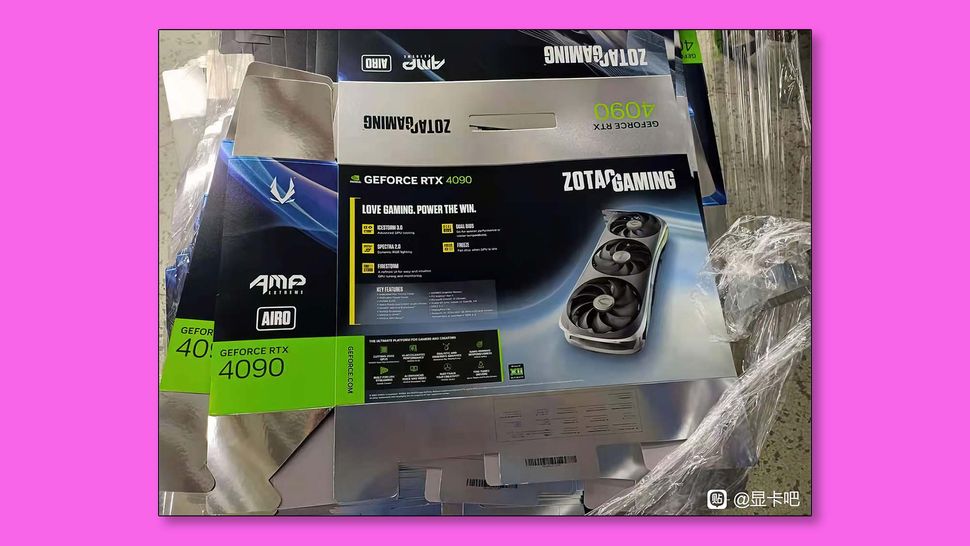 Founder's Edition launching everywhere on October 12
Third-party models expected to launch on the same day
In May 2020, the first Ampere GPU to be announced – the Nvidia A100 GPU – was unveiled to help developers and scientists work on COVID 19 research (among other things), but that was a data center and cloud computing platform, not a consumer GPU.
The Nvidia RTX 3080 launched several months after, with the Nvidia GeForce RTX 3080 launching first on September 17, 2020, followed by the Nvidia GeForce RTX 3090 on September 24. The Nvidia GeForce RTX 3070 was released on October 28, 2020.
This time around, we're expecting the Nvidia RTX 4090 to launch first, which should then be followed up by the RTX 4080 and the RTX 4070 in October and November, respectively. And newly leaked photos of the packaging box seem to confirm an imminent launch for the graphics card.
Nvidia RTX 4090 Price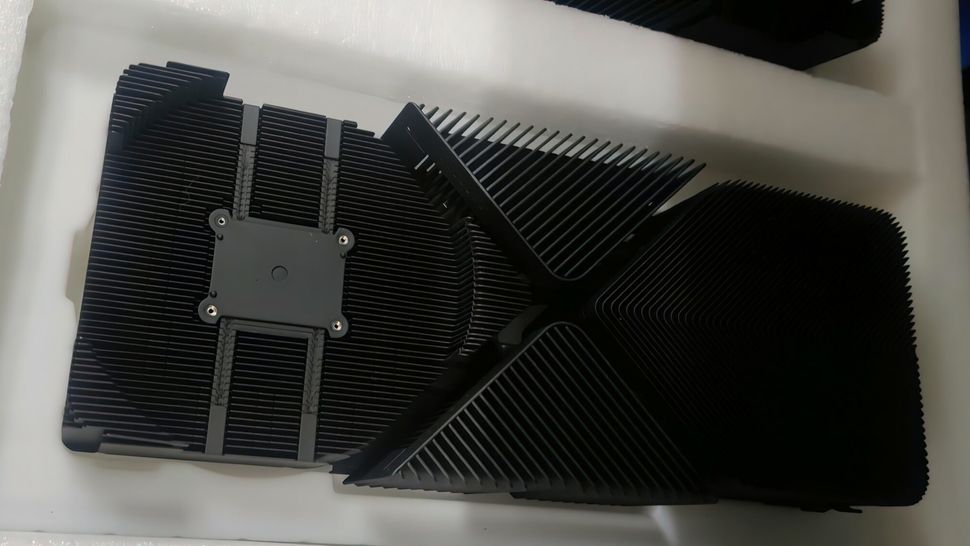 Very little to go on in terms of pricing, but we're expecting prices as high as $2,000 (about £1,700, AU$2,800)
Current-gen RTX 3090 MSRP is $1,499/£1,399/AU$2,429
Third-party cards will be more expensive, especially with inflation raging
According to new leaks, it seems we finally have a possible price point for the RTX 4090 and it ain't pretty. Twitter user @I_Leak_VN (opens in new tab) reported that Vietnamese tech retailer AZPC Workstation has been offering early preorders for the graphics card in two flavors: the 'basic' version for 50 million VND, and the 'premium' model costing 60 million VND.
This translates to about $2,100 for the basic model (which is most likely a Founder's Edition card) and $2,520 for the premium variant (though we don't know what premium means here).
Needless to say, that's a huge jump from the RTX 3090's price which debuted at $1,499 (£1,399, AU$2,100) for the Nvidia Founder's Edition, with other AIB partners introducing additional features like larger fans or RGB elements that raised the price even further.
And that was just the MSRP. When it comes to the actual paid price, however, these prices were often way above the MSRP due to a confluence of supply chain shortages contributing to inflation and the intense demand for next-gen graphics cards inspiring profiteers to use swarms of bots to buy up available stock and resell it at inflated prices online. 
And then there were the cryptocurrency mining operations that would buy up entire warehouses of graphics cards that would otherwise have been bought by gamers.
All of this contributed to the RTX 3090 selling for way more than anyone had anticipated. Will past be prologue for the RTX 4090? It's hard to say, honestly. We expect the RTX 4090 to be a very expensive graphics card, without question, but how much of this perfect storm around the RTX 3090 will still be around to affect the price of the RTX 4090 is anyone's guess at this point.
Cryptocurrency prices have plummeted in recent months, driving down demand for high-end graphics cards from cryptominers, so that upward pressure on prices isn't as powerful. And while the chip shortage is still very much a problem, it struck just ahead of the Ampere and AMD RDNA 2 launches, so those graphics card line-ups were not prepared for the chip crunch of 2020 and 2021.
It's 2022, however, and now the chip shortage is somewhat baked in. Nvidia has known what the chip situation looks like and has had time to prepare for it in a way it couldn't before with the RTX 3090.
As for dastardly profiteers…well, there's not much anyone can do about the human impulse toward screwing over strangers for profit, but there will likely be a lot more inventory available this time around to make it far less profitable to try to buy up tens of thousands of dollars in graphics cards with the hope of reselling them at a 50% premium (or more).
Nvidia RTX 4090 Specs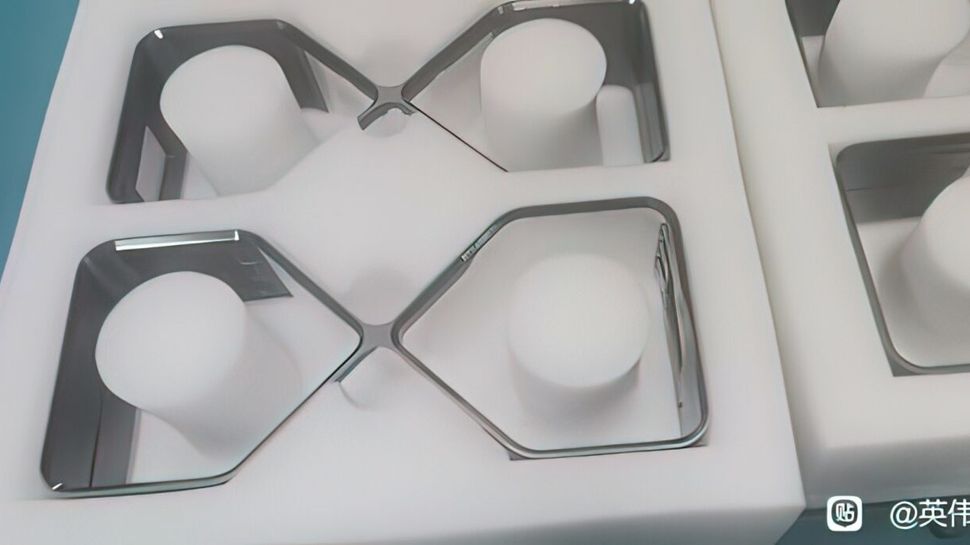 Expecting 16,384 CUDA cores
As much as 48GB GDDR6X VRAM
512 Tensor cores, 128 RT cores, 21.2 Gbps effective memory clock
Given that we don't have anything official on the RTX 4090, all of the details about its specs are more like speculation than fact.
What we can say is that this is almost certainly going to be a beast of a graphics card, and we don't just mean in terms of frames per second. If the rumors are true, then this might as well be called the Nvidia Tarrasque (opens in new tab) given how much power it is expected to consume.
However, newly leaked photos of the 4090 and its box suggest certain specs and features that the graphics card might come with. For instance, the photos showcase a quad-slot cooling system and a PCB design with a single PCIe Gen 5.0 connector. And from the packaging, we can assume that the GPU will feature an Icestorm 3.0 iteration, as well as Spectra 2.0 RGB lighting, Firestorm, dual BIOS design, and Freeze 0dB fan tech.
Leaker HXL also reported that the RTX 4090's Time Spy Extreme benchmark score is a massive 20,192, higher than the previously rumored Time Spy score of 19,000. This is backed by leaker Kopite7kimi who claimed that the 4090 will be at least twice as fast as the RTX 3090.
Someone told me the xx90 with 600W TGP has been confirmed. I think it's too early to talk about it.March 12, 2022
See more
With a TGP (Total Graphics Power) of 600W, this component alone might be the most power-hungry consumer PC component ever. This is enough power to run some of the best gaming PCs around, and we're not talking just budget systems, either.
This much power consumption only makes sense if the Nvidia RTX 4090 is as powerful as some are claiming, which is anywhere from twice to three times as fast as the RTX 3090.
To be clear, the RTX 3090 can run Cyberpunk 2077 at 4K on its highest ray-traced settings with DLSS off and get upwards of 30 FPS, which is still playable, if not ideal. Turn DLSS on and it is the only graphics card that has a chance of approaching 60 fps with those settings, getting as high as 52 fps, being topped only by the RTX 3090 Ti's 57 max fps.
Now saying that a graphics card is twice as fast doesn't mean that this will translate directly into doubling your fps in any given game, but at just twice the speed, the RTX 4090 (with DLSS on) should easily clear 60 fps and maybe even reach 80 fps if these rumors are true. That is some serious gaming performance, and it would be what we'd expect if you nearly doubled the TGP of the RTX 3090 (opens in new tab), which has a TGP of 350W.
Once we get closer to launch, we'll likely start to hear more about the core counts and clock speeds, but suffice it to say, this should definitely be the biggest graphics card launch of the year.