Breath of the Wild 2 is officially coming in 2023. Not only that, but we finally know what it's called—Tears of the Kingdom. So far, we've seen a couple of trailers, some gameplay, and heard many comments and tests from the games developers. By all accounts, it looks set to build upon the original, while trying some new ideas out.
Tears of the Kingdom is the sequel to 2017's The Legend of Zelda: Breath of the Wild so it understandably has huge shoes to fill. Being the Nintendo Switch's biggest launch title and still widely considered one of the best Switch games ever – which is quite a feat given there's no shortage of excellent Switch games – Breath of the Wild set the bar very high indeed.
Time-manipulation, sky-diving and brand new combat systems are all on the cards. Trailers released so far show a game that is more vertical than its predecessor, though there's certainly a lot that we don't know yet.
Here's everything you need to know about The Legend of Zelda: Tears of the Kingdom, including a look at trailers, and all the latest news and rumors.
Breath of the Wild 2: cut to the chase
What is it? The upcoming sequel to 2017's Breath of the Wild
What can I play it on? Nintendo Switch
When can I play it? May 12, 2023
Tears of the Kingdom release date and platforms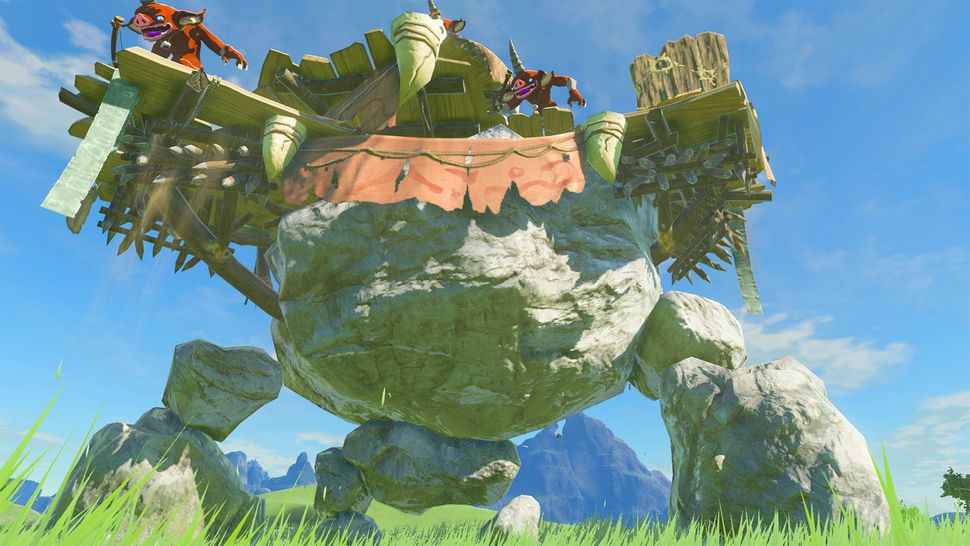 Thanks to September 2022's Nintendo Direct presentation, we learned that The Legend of Zelda: Tears of the Kingdom launches on May 12, 2023. Unsurprisingly for a first-party Nintendo game, that'll be exclusive to the Nintendo Switch console family.
We initially thought that Tears of the Kingdom would release sometime in 2022 but in March of that year Nintendo pushed the date into 2023, with series producer, Eiji Aonuma, telling fans it was out of a desire to "extend out development time a bit".
Tears of the Kingdom trailers
Nintendo Direct September 2022 trailer
We got a brief new look at Breath of the Wild 2 during the latest Nintendo Direct, only we learned it's officially called The Legend of Zelda: Tears of the Kingdom. While we didn't get a particularly in-depth look at gameplay, it appears to show seamless travel across Hyrule, alongside a new glider. You can watch that in full below: 
E3 2021 trailer
We got our best look yet at Tears of the Kingdom during the E3 2021 Nintendo presentation, with a trailer showing off the vast, expansive world of Hyrule – expanded even further with navigation into the skies, despite the more dungeon-crawling feeling of the original 2019 teaser.
There's some paragliding up in the clouds, along with more a freefall mechanic that seems ripped right out of Skyward Sword, and a new glove that looks to be taking the place of the Sheikah slate for Tears of the Kingdom. 
There's even a short clip of a splashed puddle… reverting in time? We're not entirely sure, but it's clear that some new mechanics will be introduced into the Zelda formula, while one of the first game's sentient boulder enemies (that's Stone Pebblit to you) is shown with a Bokoblin fort on its back for Tears of the Kingdom, suggesting even more dynamic interplay between the game's many enemies. 
Take a look below…
Announcement trailer
We got our very first glimpse of Tears of the Kingdom at E3 2019, with this spooky trailer that shows Zelda and Link exploring an underground chamber – with some mysterious runes, glowing hands, and a brand-new haircut that has set the internet on fire. Suffice it to say we're excited.
The Legend of Zelda: Tears of the Kingdom trailer that first revealed the game is just 82 seconds long and there's no dialogue whatsoever, but there are some clues to be gathered from it.
It features a torch-carrying Link and Zelda traversing a dark dungeon beneath Hyrule (no big surprise there). Spirit-like tendrils creep around the musty tomb they're exploring, with the pair riding a large elephant-like beast. Something shocks the pair, and then we cut to what appears to be the resurrection of some long-dead (and creepy looking) warrior. Could this be the return of Ganondorf?
The video then cuts to a long shot of Hyrule Field, with Hyrule Castle in the distance. There's a tremor, the castle is smothered with dust… and that's the end. The clip finishes with a message that reads: "The sequel to Legend of Zelda: Breath of the Wild is in development."
We wouldn't usually expect so much animation to be done so early in development, but it probably helps that Nintendo already has the in-game engine from Breath of the Wild.
Tears of the Kingdom gameplay and story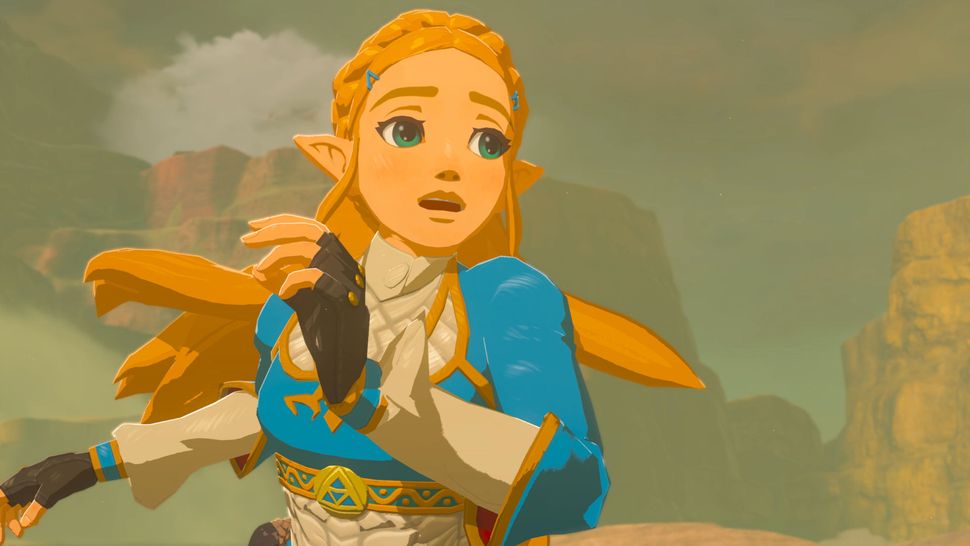 Skyward mechanics
In the trailers we've seen so far, it's clear that the skies will be a big part of Breath of the Wild 2. We've seen Link free falling, using a new glider, and even riding on the back of flying creatures. There looks to be a mechanic that allows Link to travel upwards through clouds and other objects, aiding in vertical exploration.
Patent hints at Tears of the Kingdom mechanics
Three recent patents filed by Nintendo could give us an insight into the gameplay mechanics of Tears of the Kingdom. As spotted by GameReactor, the three patents have been registered with the World Intellectual Property Organization (WIPO). 
Each patent contains a diagram of what could be Link abilities for Tears of the Kingdom, with the connection being drawn between what's shown in the patent and what we got to see in the game's E3 2021 trailer (that's embedded above if you need a refresher). 
The first patent, for instance, describes the ability "to perform a special action" while a character is falling such as "a shooting action of shooting a predetermined object." The diagram in the patent shows a character falling through the air with their arms wide and it's a strikingly similar pose to Link's at around 25 seconds into the E3 trailer. 
While it looks as though these abilities made an appearance in the trailer, none of these mechanics have been confirmed by Nintendo so it's best to treat this with a pinch of salt at the moment. 
Time-manipulation
Something else that appears to be a theme in Tears of the Kingdom is time-manipulation. In the latest trailer we see Link holding onto a boulder as it rise upwards. By the looks of things, the boulder is actually reversing its falling trajectory. Similarly, time manipulation was used in the very first trailer. The music was clearly being played in reverse, as glowing particles moved inwards towards an ominous green light.
What we know about the story
In terms of plot, we know very little about Tears of the Kingdom at present. It's a direct sequel to Breath of the Wild 2, and Link and Zelda seem to be travelling together investigating a mysterious blight. There have been suggestion that this sequel could take a darker turn however:
Zelda series producer Eiji Aonuma that the game is going to have a darker tone than Breath of the Wild, and will even be "a little bit darker" than Majora's Mask (via IGN).
The trailer certainly supports this, with what looks like Ganondorf's corpse being resurrected by a disembodied hand, and seemingly imagery from 2006's Twilight Princess, which saw Hyrule turned into a bleak shadow realm – largely in response to the far cheerier and cartoonish The Legend of Zelda: Wind Waker. That said, it won't be all doom and gloom – visually at least – as the E3 2021 trailer has at least indicated that we'll take to the skies and explore amongst the clouds.
Tears of the Kingdom news and rumors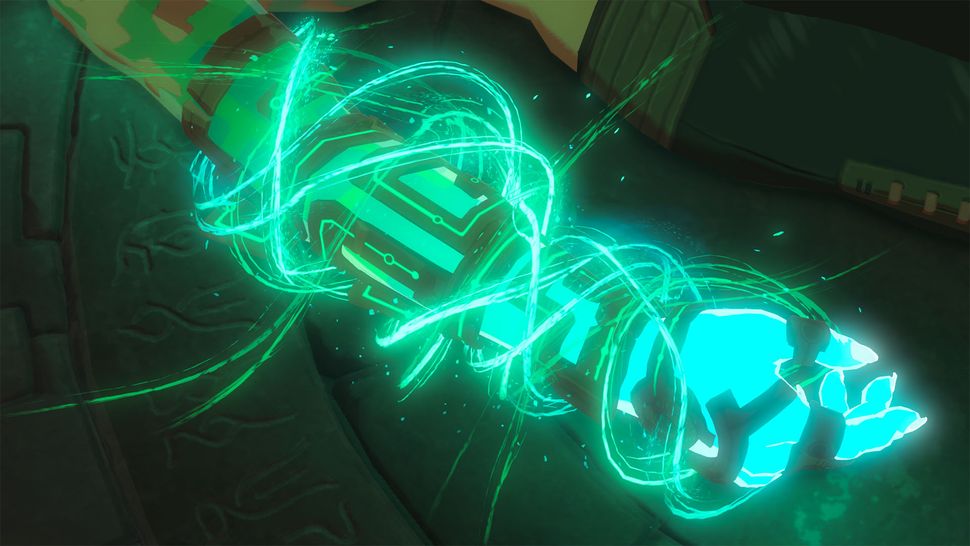 Nintendo clears up confusion around the title
During its September Direct, Nintendo finally announced that the game will be called The Legend of Zelda: Tears of the Kingdom, not Breath of the Wild 2 as it was long unofficially called. However, fans were still left with a question: is that 'tears' or 'tears'? As in, should our confusion be making us tear our hair out, or should our eyes be filling up with tears?
Fortunately, Nintendo stepped in to clear things up, confirming to Eurogamer (opens in new tab) that it's crying tears. That is at least one mystery around Tears of the Kingdom mopped up. 
Plot details?
Nintendo has done a very good job of keeping spoilers around Breath of the Wild 2 quiet but a potentially major plot detail for the game might have been leaked by Pietro Ubaldi, the Italian voice actor for Daruk in the original game. 
Do be wary of spoilers for Breath of the Wild and, potentially, Tears of the Kingdom below. 
ResetEra user Alexander_Wand (opens in new tab) recently spotted that the Zelda-focused YouTube channel Lega Hyrule (opens in new tab) posted an interview with Ubaldi who claims to have voiced Daruk in the sequel and the Goron character's ancestor.
Given the ending of Breath of the Wild, the appearance of Daruk in the sequel is a little odd but the claims around an ancestor character are very intriguing and some wonder if this could see Tears of the Kingdom playing with time – specifically an ancient past – which wouldn't exactly be unprecedented for a Legend of Zelda game.
Nintendo is, of course, staying quiet in the meantime and we won't know about any Tears of the Kingdom plot details for sure until they're officially announced.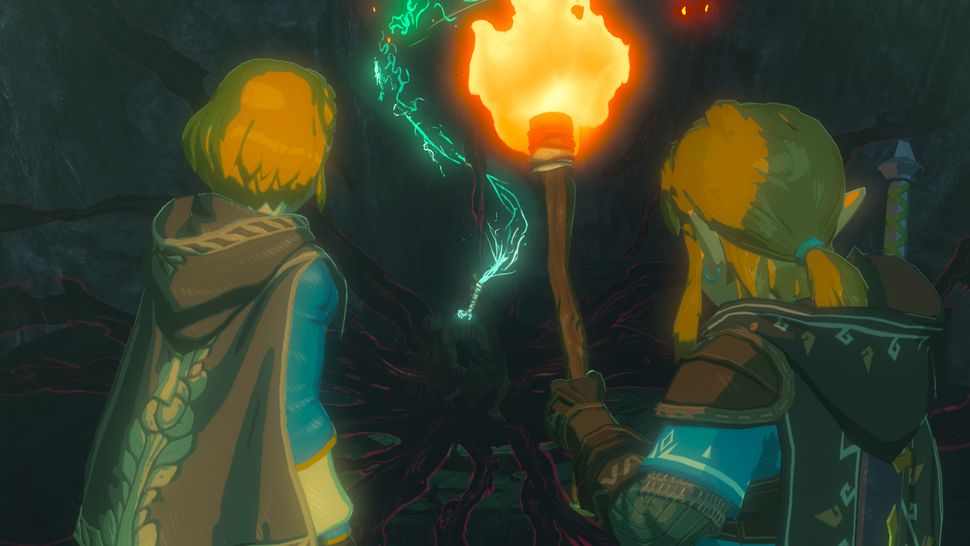 BOTW 2 and those Majora's Mask comparisons
Nintendo's Treehouse is always a great place to find new info on upcoming Nintendo games, and Tears of the Kingdom is no different. Bill Trinen, Senior Product Marketing Manager of Nintendo of America, spoke of Tears of the Kingdom in a recent broadcast with IGN, and its much-noted comparison to the relationship between the N64's Ocarina of Time and its sequel, Majora's Mask.
"I would say it's an easy comparison or conclusion to jump to at this point in time, just given what's been shown so far and given the nature of it being a direct sequel. So I understand people making that conclusion, but at the same time – and I don't want to delve too much into it – but this is its own game". 
However, whereas Majora's Mask reused lots of assets, Trinen wanted to make it clear that this is indeed a true sequel. "I think as we start to show a bit more of the game over the coming months to the next year or so, it'll probably start to be a bit more apparent where this game stands on its own and what makes it so unique".
"The way that [Breath Of The Wild 2] builds on Breath of the Wild, which already was such an expansive game with so many layers of Link's abilities and layers to the gameplay… I think this is going to layer quite a bit more into that".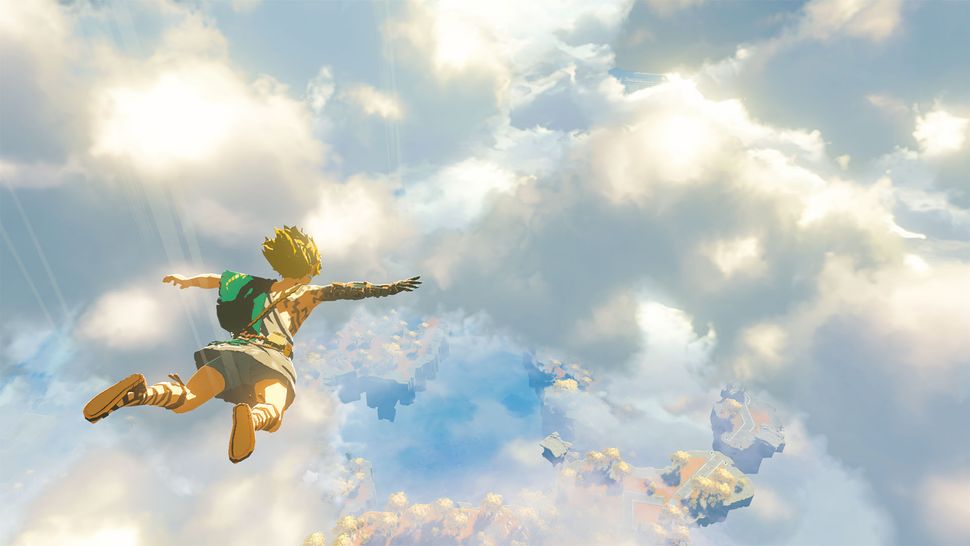 All the DLC that never was
In an interview with Kotaku (opens in new tab), Zelda series producer Eiji Aonuma said there were originally plans for more DLC content for BOTW, after The Champion's Ballad and Master Trials add-ons that came in 2017.
"Initially we were thinking of just DLC ideas," says Anouma. "But then we had a lot of ideas and we said, 'This is too many ideas, let's just make one new game and start from scratch.'"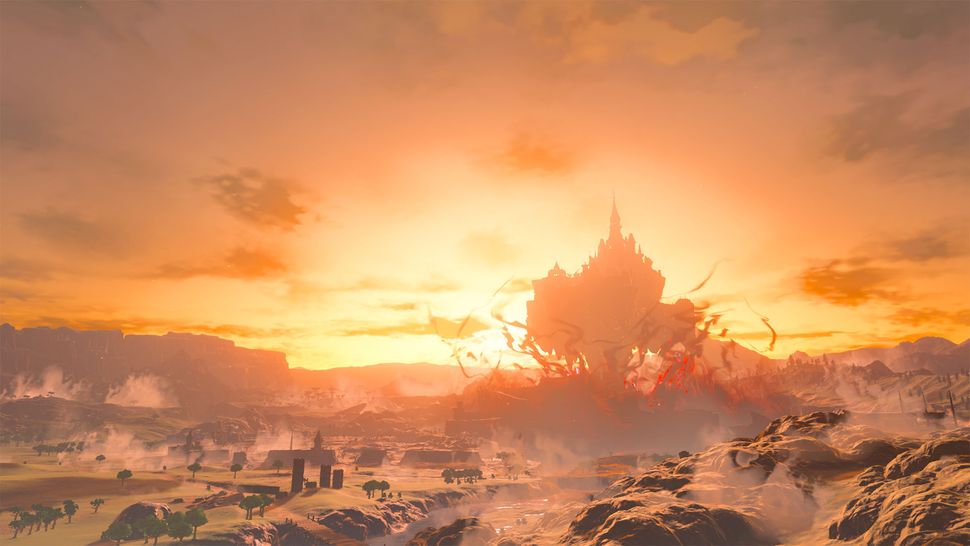 The Twilight realm
The glowing blue hand in the trailer is the biggest clue that we'll be seeing more of the Twili – shadow people descended from Hylians who tried to take the power of the Triforce for themselves. The hand is wrapped in twisting shapes reminiscent of Twilight architecture, while the swirling magic could remind some of the portals that let Twili invade Hyrule in the 2006 game.
We know that BOTW's dev team originally toyed with the idea of an alien invasion, and seeing shadow creatures teleport out of the sky could well have been what they have planned this time around.
A clue in the audio
Showing just how far some Zelda fans will go, reddit user u/ReroFunk (via Inverse (opens in new tab)) pieced together a pretty convincing theory regarding Twilight Princess villain Zant, a Twili who served Ganondorf in the game. If you listen to the trailer's audio in reverse, there are certain notes that seem to echo the music played during your final encounter with Zant – who, while defeated, is adamant he'll return through the power of his "god".
u/ReroFunk also suggests we could see the demon king Demise return for the next Zelda game. Demise was the final boss in Skyward Sword, and revealed to be the original form of Ganondorf. The below still from the Zelda trailer also looks a lot like Demise when you think about it.